Is now a good time to buy a house in Portugal? If this is a question you are asking, the answer depends more on "where", "how" and "why" rather than "when"...
As with everything in life, there are no simple answers to complex questions. But is this really a complex question? Only if you're looking for a "yes" or no" answer.
Anyone who has been paying attention to the Portuguese real estate market knows that prices are in fact rising, but so is demand! Ultimately, deciding whether this a good time to buy depends more on "where", "how" and "why" and not so much on "when"...
See our tips to ensure the best return for buying property in Portugal:
1. Ignore the "bubble" babble and check the facts
It is undeniable that in 2018 Portugal's property market continued to break records. In comparison to the previous year, the number of transactions increased by 16.6% and the volume of investment grew 24.4% for a total of 24.1 billion euros (INE - Housing Price Index IPHab).
Despite fast-rising home prices, statistics show that Portugal continues to be one of the best countries in the Euro Zone to invest in. The biggest price increases were in the centre of Lisbon and Oporto but even in these two places, prices are still well below the averages of other European cities.
In comparison to other properties with 120 m2 in major European cities, Portugal comes 26th out of a total of 38 places, showing that prices are much lower than in the rest of Western Europe.
Before buying, compare prices, see various locations, and don't hesitate to ask for other alternatives within your budget. You'd be surprised how many great deals are waiting for a buyer just like you!
2. Location is everything
If you just started to search for property in Portugal and are only looking in Lisbon or Algarve, you're really missing the bigger picture! Portugal may be small in area but it's definitely huge in investment opportunities and property options.
The price of houses in Portugal varies a lot depending on the location. At a national level, in the 3rd quarter of 2018, the average selling price reached 984 euros per square meter. Prices are obviously higher near the coast and in bigger cities, but they also vary a lot from North to South.
As you can see on the map below, the metropolitan areas of Lisbon and Oporto continue to register the highest values, largely because of the increase in tourism and the boom in local accommodation:
Average price per square metre - Portugal, 2018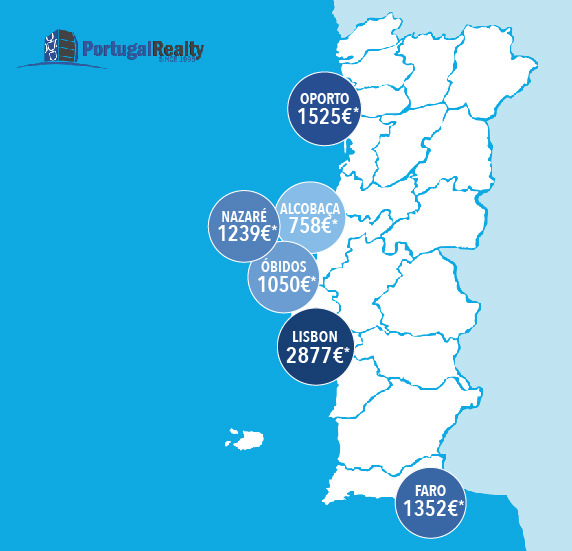 *Source: INE, 2019
In 2018, Lisbon registered the highest average selling price of houses, €2,877 per square meter, followed by Cascais and Oeiras that occupy the second and third positions. The average price for a house in Oporto is €1,525.
Among the areas most sought after by foreigners, the Algarve continues to deserve high levels of demand. With an incredible lifestyle, great weather, and some of Europe's best beaches, the average price of a house in Faro is only €1,352 per square meter - a value far below similar areas in Europe.
Another increasingly popular location for expats to buy property is on the Silver Coast, where average prices range from €758 to €1,239 per square metre.
3. Chose the right house for you and your lifestyle
On the other hand, making the most of your investment also depends on the type of house you choose. In some cases, it may be more profitable to buy a new house. Depending on the location, the price of a new build in Portugal may be almost the same or even lower in comparison to resale property.
At a time when banks are once again becoming more available for home loans and the interest rates remain attractive, this might also be a good moment to apply for financing if you prefer to invest in a bigger or better-located property.
The price, size, and location of your house will depend on your needs and lifestyle. However, with some research and a visit to alternative locations, the bigger picture might just be the best picture of your perfect dream home in Portugal!
4. Do the math: your holiday home can probably pay for itself
If you are considering buying a house in Portugal to invest in the holiday rental market, here are some numbers that might convince you to take the plunge:
Portugal continues to break records with 12.76 million tourists in 2018;
The average price of home rentals is higher than ever and in 2018 increased by 37%.
In some cases, renting your property for a few weeks a year will ensure you sufficient income to support the annual management costs. On the other hand, Portugal has invested heavily in boosting the market for tourist accommodation in order to make the process simpler and safer for homeowners.
Do the math, and find out more about transforming your holiday home into a long-term investment.
5. The red tape exists, but expert consultants will gladly cut it for you
With the rapid growth of the real estate market, there is also an increase in consulting services available that will allow you to save time and money. Buying a house in Portugal nowadays is much simpler and faster than a few years ago!
Long gone are the days when you needed to spend hours researching the right property for your needs and all the bureaucratic steps to buy it. Experienced realtors will not only search for the right property but will also provide a professional service during and after the sale. From legal contracts to help with financing, professional realtors support every client individually every step of the process.
If you would like to know more about buying a house in Portugal, visit this link or contact one of our partner companies specialised in property rights and accounting.
6. Resident or not, anyone can buy a house in Portugal
Portugal has created several appealing incentive programmes aimed at attracting foreign investment for real estate purposes. Despite Brexit, it's good to know that anyone can buy a house in Portugal regardless of having a residence visa.
The only documents required to buy a house in Portugal are an identification document, such as a passport, proof of residence, and a taxpayer identification number.
If your goal is to live in Portugal full time, the tax regime for non-habitual residents offers:
A fixed-rate of 20% for taxation of personal income tax (IRS) for a period of 10 years (applicable to income derived from high added value activities of a scientific, artistic or technical nature);
As well as no double taxation for pension incomes or for employment and self-employment income obtained abroad.
Also, the ARI - Residence Permit for Investment (also known as Golden residence permit programme) opens up the possibility of foreign investors to apply for a residence permit through investment activities, such as acquiring real estate with a value of 500 thousand Euros or more.
If you think this may be a great time to buy property in Portugal, contact us!
Portugal Realty™ - Property for sale in Portugal