The Silver Coast mountains offer plenty of walking trails, breathtaking landscapes as well as the aromas and flavours of "the real Portugal"...
As the name suggests, the Silver Coast's main calling card is its magnificent shore, where you'll find some of Portugal's most popular beaches. From the iconic fishing village and giant waves of Nazare, to the shell-shaped bay of Sao Martinho do Porto, the Silver Coast of Portugal has several places that are living postcards. Places where tradition, history and nature still preserve the essence of what many consider to be "the real Portugal":


The Silver Coast is so much more than just the sea! Here you'll find some of the most remarkable Portuguese monuments, such as the monasteries of Alcobaca and Batalha, classified as World Heritage sites. There are also many cultural, sporting and leisure events that have allowed this region to become one of Portugal's most dynamic and vibrant locations.
It's precisely this diversity that has captivated foreigners from all over the world and led them to choose the Silver Coast as home. Far from the hugely sought-after Algarve or the high real estate prices of Porto, Lisbon, Estoril or Cascais, many expats have found in this "hidden treasure" the answer to their dream life in Portugal. Especially those who seek a more peaceful lifestyle, surrounded by tranquillity, unspoilt nature and a wonderfully mild climate.
If for you a dream life in Portugal implies opening your window to hear the chirping of birds, breathing fresh air and walking on beaten earth tracks with gorgeous views of a never-ending horizon, then the Silver Coast is definitely the place to be!
Discover some of our favourite places to enjoy the Silver Coast's natural wonders and experience the beautiful highlands that cover this region from the sea to the mountains:
Serra do Bouro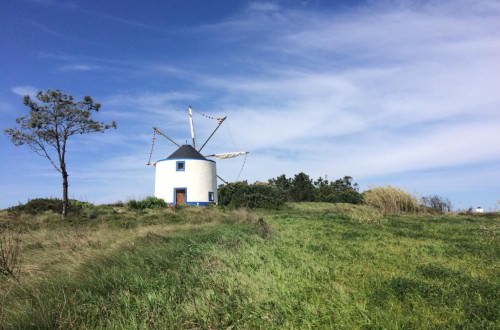 Located between the beautiful beaches of Foz do Arelho and Salir do Porto, Serra do Bouro is separated from the sea by a chain of steep cliffs that offer a breathtaking view of the vastness of the Atlantic.
Here you can explore the dirt tracks on foot or by bicycle, stopping to explore the various mills that once covered this landscape and served as a means of livelihood for the rural population.
To the south, go towards the wooden walkways that will take you to Foz do Arelho, where you can see where the ocean pushes saltwater into Obidos Lagoon. On clear days the "cherry on top of the cake" is the view over the Berlengas archipelago.
Whichever form of transport you choose, watch out for the occasional goat or sheep that leads its flock into the street! They're always curious about wanderers, unaware of how much visitors to the Silver Coast enjoy local cheese with a glass of delicious Portuguese wine!
›› View properties for sale in Foz do Arelho
Serra de Mangues and Serra da Pescaria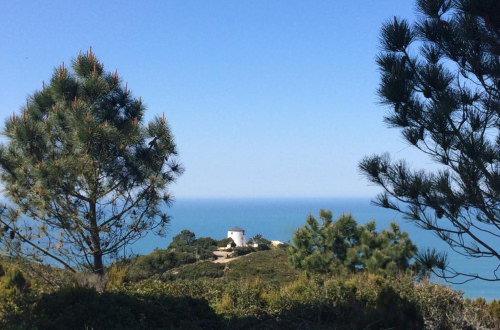 North of Sao Martinho do Porto, you'll find two joining mountains, both offering a mix of wild beauty and tranquillity. Serra de Mangues is located just north of Sao Martinho do Porto bay and is home to the beautiful Gralha Beach. Serra da Pescaria is located a little further north in the municipality of Nazare and gives access to Salgado Beach, with a golden sandy waterfront of more than 6 km.
Being one of the highest points on the Silver Coast, Serra da Pescaria offers privileged views of Nazare to the north, and the steep cliffs of Gralha Beach to the south. This is the perfect place to watch breathtaking sunsets all year long and give freedom wings.
Speaking of wings, these mountains also have the ideal conditions for paragliding and hang gliding. On any given day, you'll see the horizon painted with specs of colour where man joins mother nature in perfect harmony.
The mountains of Mangues and Pescaria are also a great place to get a taste of authentic Portuguese food, filled with sea flavours and at a price that is more than refreshing. You don't have to look hard to find taverns and family-run restaurants that serve simple home-made food, in a cosy atmosphere and with a genuine hospitality that shows why this region is known as the "real Portugal".
›› View properties for sale in Nazare
Natural Park of Serras de Aire e Candeeiros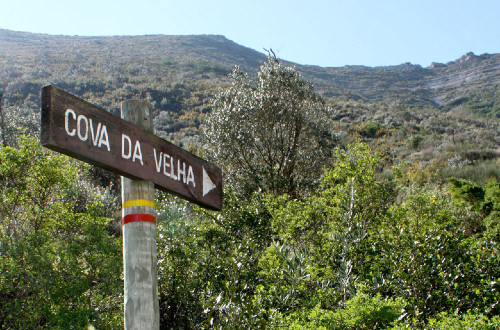 Wherever you are on the Silver Coast, the mountains of Aire and Candeeiros can always be seen if you look towards the East, offering a magnificent glimpse of one of nature's natural wonders. With an area of 38,900 hectares, the Natural Park of Serras de Aire e Candeeiros covers the municipalities of Alcobaca and Porto de Mos (in the district of Leiria) and also a part of the Santarem district.
Along these mountains, there are several well-signposted walking and car routes, allowing you to visit several iconic tourist spots and enjoy the extraordinary landscape.
The most famous places to visit include the Salinas de Rio Maior (natural salt pans), the Fornea waterfall in Alvados (Porto de Mos), or the Grutas de Mira de Aire, the country's largest caves and one of the "7 Natural Wonders of Portugal".
Donkey rides are another popular attraction that will allow you to experience nature in this wonderful location… as well as a few laughs and great pictures along the way!

To get to know the Silver Coast mountains better, you can stay in one of the many rural tourism resorts available or maybe even sleep in a recovered windmill overlooking the starry sky. But this romantic vision of being in communion with nature can be more than just an option for a holiday or weekend getaway. For many people, the Silver Coast is a lifestyle!
Contact us to find out more about living in the Silver Coast of Portugal or to find Silver Coast properties for sale that may be ideal for you and your family. Our team of property specialists in the Silver Coast are happy to share their love for this region as well as an insider's perspective of the best places to eat, visit and fall in love with simple life!


Portugal Realty™ - Property for sale in Portugal