Obidos is one of the most charming medieval towns of Portugal, embracing centuries of history among its stoned walls. Bestowed as a wedding gift by King D. Dinis to Queen 'Saint' Isabel, Obidos Castle is not only impressive, it's a place filled with romance and simple pleasures that should be enjoyed in all its colours.
Obidos is one of the most charming medieval towns of Portugal, embracing centuries of history among its stoned walls. Bestowed as a wedding gift by King D. Dinis to Queen 'Saint' Isabel, Obidos Castle is not only impressive, it's a place filled with romance and simple pleasures that should be enjoyed in all its colours.
While strolling along the cobblestone streets of the village, we are transported to another era and time moves at a different pace. The stones of the castle walls are rich in history, and being able to walk along the 1.5 km is a unique and memorable experience that takes approximately two hours, offering a breathtaking view over the village.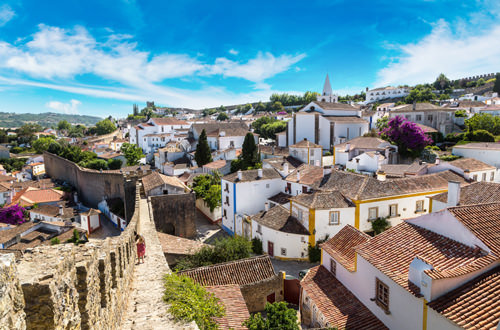 Along the winding pathways of the village we are lead to charming nooks and crannies, where the windowsills and balconies are adorned with colourful flowers, especially shades of bright pink bougainvillea. The whitewashed houses are painted with traditional colours that the residents proudly preserve. Stripes of vibrant blue and bright yellow fill the village with colour and you can feel a sense of joy in the air.
The same joy is present in the unmistakable flavour of Ginginha de Obidos, which you can find in one of the many typical handicraft shops or cafés in the village. A cup made of chocolate and filled with this sweet cherry liqueur costs only one euro… and afterward you eat the cup! Such a small price to pay for centuries of history passed down from generation to generation.
Among the various places that offer unique views, the lookout point in front of the famous Pousada do Castelo de Obidos stands out. From here, it's possible to see the streets lined with typical houses inside the castle walls, all with traditional architecture and red clay roofs.
The Pousada do Castelo de Obidos is one of Portugal's most famous historic hotels and is classified as one of Portugal's 7 Wonders. It is packed with history, with details from the 9th century and fabulous suites in the keep towers that offer a unique experience to any world traveler.

The magic of Obidos is also present in its many historical monuments.


Inside the Castle walls, some must-visit spots include the Town Gate and several churches, among which the Church of Sao Tiago, which was transformed into an impressive book shop, and the Church of Santa Maria, the main religious temple of the village which is located in the square bearing the same name. It's believed that this church was founded in the Visigothic period, transformed into a mosque during the Muslim occupation and again taken by Portugal's first king, D. Afonso Henriques, soon after the conquest of the village in 1148.
Obidos is also known for its fantastic events calendar, that annually attracts thousands of visitors from all over the world. The most famous include:
International Chocolate Festival – Between April and May, Obidos is stage to one of Portugal's sweetest events! Every year thousands of visitors are amazed by monumental chocolate sculptures, skilfully carved over several months by a group of Portuguese and foreign chocolatiers. The event includes dozens of exhibitors and visitors can participate in show-cooking sessions, workshops, and other chocolate experiences for all ages.


Holy Week of Obidos – This is one of the most impressive religious ceremonies in Portugal, taking to the streets of the village millenary traditions that invoke the passion and death of Jesus Christ. Besides the Catholic masses and celebrations, where a night-time procession illuminated with fire torches stands out, this event also includes a vast cultural program with concerts and exhibitions that captivates thousands of visitors.


Medieval Fair – Between the end of July and the beginning of August, Obidos goes back in time with a huge historical re-enactment that transforms the village into a medieval burg. During several days, visitors are invited to participate in the celebration, dressing medieval clothes and tasting century-old recipes, while jesters, dancers, and musicians invade the streets carrying us back in time.


Folio – Obidos International Literature Festival - This literary event, which is part of the Obidos literary village project (Obidos Vila Literaria), aims to share the love for books and literature. This event takes place in October and joins authors and book lovers from all over the world, throughout several days of conferences, talks, and music concerts.


Obidos Vila Natal – During the month of December, Obidos is filled with fantasy, when elves, reindeer, and snowmen transform the village into a Christmas story that comes to life. Children shows, an artificial ice rink, and lots of games and fun for the entire family are just some reasons that thousands of people visit Obidos during Christmas.


Living in Obidos

Living in this magnificent Silver Coast village also allows you to have access to a wide range of services and leisure activities, all very close.
For golf lovers, there are several prestigious courses, offering spectacular views and high-quality facilities, just a short drive away:
Praia D'El Rey - Ranked among the best golf courses in Europe by Golf World magazine, this is one of Portugal's main golf destinations for private and sponsored events. It is undoubtedly one of the most stunning golf courses in Portugal, nestled among extensive pine forests and winding dunes, with spectacular views out into the ocean. This 18-hole golf course was designed by the renowned American golf architect Cabell B. Robinson.


Guardian Bom Sucesso Golf - Designed by Donald Steel, one of the world's most prestigious golf architects, this 18-hole championship golf course stretches over a rugged slope, offering fantastic and unique views over Obidos Lagoon and the Atlantic Ocean. The course covers an area of over 60 hectares and is surrounded by a stunning landscape with Mediterranean vegetation, some exotic species, and where hundreds of secular olive trees have been planted, offering a unique setting to this golf course.


Royal Obidos - Designed by Severiano Ballesteros, legendary golfer and renowned golf course designer, the Royal Obidos Golf Resort is truly unique. The 18 hole championship golf course has magnificent golf and ocean views, a clubhouse with pro shop, restaurant, bar, members' lounge, and a large terrace with incredible views over the golf course and the Atlantic.


West Cliffs - This outstanding championship links par 72 course was designed by world-renowned golf course designer Cynthia Dye. The beauty and challenge of the course grow with each passing hole, offering stunning sea and cliff views. The golf course was designed to perfectly fit into the natural environment and create one of the most wonderful golf experiences.

For nature lovers and outdoor sports enthusiasts, the various walking trails and cycling routes that lead from Obidos Lagoon along the coastline are other compelling factors that have also led so many foreigners to choose Obidos to buy their dream home in Portugal.
The proximity to the sea makes this region the perfect place to invest in a second home for the holidays or for permanent living.
The beaches of Covoes, d'El Rei, Rei Cortico and Bom Sucesso are an example of the untouched beauty of the coast that stretches south of Obidos Lagoon. And to the north, the fantastic Foz do Arelho beach, famous for its seafront cafés and restaurants, with the waves of the Atlantic on one side and the calm waters of the lagoon on the other.
Obidos is a wonderful place to enjoy nature, yet close to all the comforts of modern life. The city of Caldas da Rainha, where you'll find a large range of services, shops, restaurants, and the largest public hospital centre in the Silver Coast region is only a 10-minute drive by car. You can get to the fishing villages of Peniche and Nazare in half an hour, while Lisbon International Airport is only 55 minutes away.
If you'd like to buy a property in Obidos surrounded by history, nature, and plenty of things to see and do all year round, contact our Silver Coast office. We'd love to share the magic!


Portugal Realty - Property for sale in Portugal