Few traditional dishes say Portugal as much as juicy, slow-grilled sardines that have inspired generations…
For centuries, sardines have played an important part in Portuguese eating habits. Traditionally they were associated with the lower classes, who would rub this fatty fish on bread to increase the flavour and "fazer o peixe render" (popular Portuguese saying that literally means "to make the fish last longer"). Long gone are the days where the majority of the population could only afford to eat one sardine! Nowadays sardines continue to be one of the most affordable fishes in Portugal but they are considered a delicacy and appreciated by all.
The traditional way to eat sardines is grilled, with plenty of salt and preferably between late spring and mid-autumn when they have more fat! However, the real secret is grilling them to perfection: sardines should only be salted just before going to the grill, still with scales and placed over very hot coals.
But sardines aren't just a form of culinary satisfaction for the Portuguese! From traditional ceramics to more contemporary urban pop culture, this wonderful fish has also creatively inspired various forms of artistic expression. Here's a taste of sardine's influence on Portuguese culture and a few suggestions of how to experience this century-old love-affair:


Popular Saints Festivities
Served with boiled potatoes and a salad or simply placed on a slice of bread, sardines are the queen of Portuguese tables in the summer. The Popular Saints festivities wouldn't be the same without the scent of sardines in the air and a glass of delicious Portuguese wine or beer to toast to life's simple pleasures!
Ceramic Art
The 19th-century artist Raphael Bordallo Pinheiro is famous for creating ceramics that are to this day a symbol of Portuguese culture. The unmistakable Zé Povinho or the black swallows are two signature pieces, but not as famous as his original sardine! Bordallo's iconic sardine has inspired generations of artists who've created vibrant illustrations filled with Portugal's unique culture. You can find dozens of versions online and in ceramic shops all over the country, especially in the Silver Coast town of Caldas da Rainha, homeland to Bordallo Pinheiro.
Canned Sardines
Canned sardines is another creative example of how this fish is so widely loved by the Portuguese. It's such a simple and quick way of enjoying this delicacy preserved in genuine olive oil!
These beautiful cans have also become a collector's item as well as a great gift idea for anyone who wants to share this gourmet tradition. You can easily find beautifully decorated tins at gorgeous shops like Mundo Fantástico da Sardinha Portuguesa, available at Lisbon Airport or Vilamoura Marina in the Algarve.
Sardines on the tip of the tongue
This small fish is also deeply rooted in the Portuguese language. Mentions of sardines are present in fado songs by artists such as Amalia Rodrigues. Several popular idioms used by the Portuguese also include sardines, such as these examples:
"Cada um puxa a brasa à sua sardinha"
"Each one should push the coals to their own sardine", a phrase used to justify someone who is looking out for their own interests.
"A mulher e a sardinha querem-se pequenina"
"A woman and a sardine are meant to be small", a traditional idiom that alludes to the fact that, historically, Portuguese women were known to be quite short and sardines are tastier when they're smaller.

Portugal is a beautiful country filled with delicious details! If you're dreaming of a simple life in a beautiful Portuguese property by the sea, see our modern apartments and villas for sale in Silver Coast Portugal.
Portugal Realty has a large selection of property in Portugal designed for enjoying the beautiful weather all year long! With generous balconies, sea views and gorgeous decks with access to your very own private pool… we'll help you find your dream home, perfect for cooking with the family and relaxing in the sun.
Contact us for more information.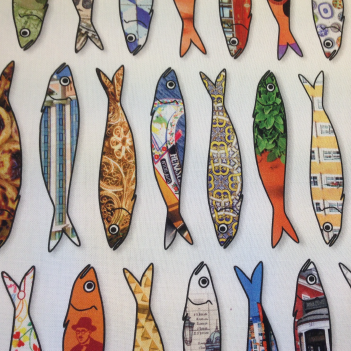 Portugal Realty - Property for sale in Portugal